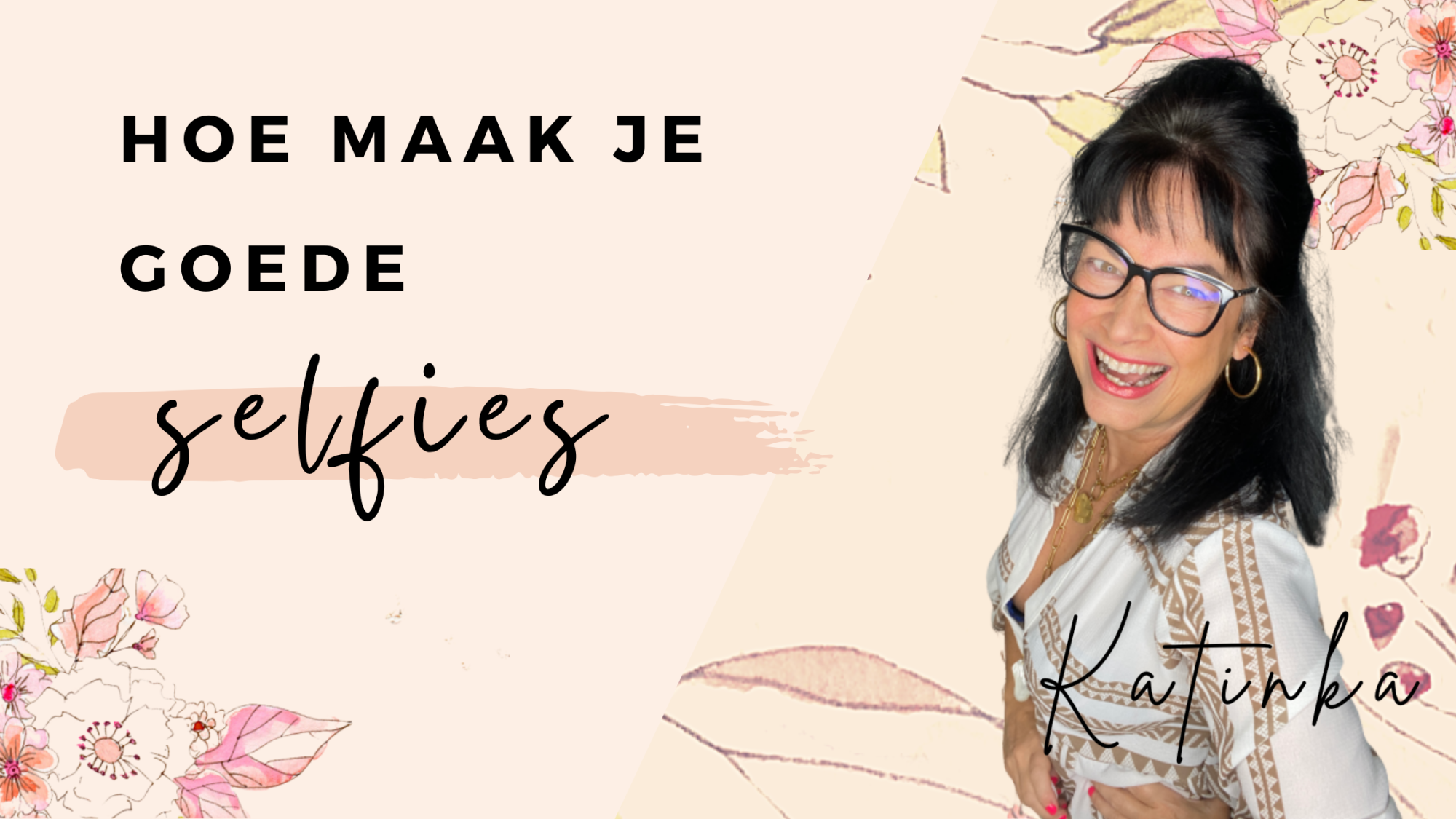 Hoe maak je een goede Selfie? Als ondernemer heb je wel heel wat visueel materiaal nodig. En vooral veel foto's van jezelf. Waarom? Hoe vaker mensen jou zien, hoe sneller je de KNOW LIKE TRUST opbouwt. Natuurlijk wil jij er op je best uitzien in foto's.
Maar vind jij het moeilijk om goede foto's van jezelf te maken?
Dan is dit voor jou!
Hoe goede selfies maken – licht!
Dit is misschien de allerbelangrijkste (en gelukkig ook gemakkelijkste) tip : zorg voor goed licht.
Het licht moet op jou gericht zijn en niet achter je. Ik gebruik binnenshuis een ringlight en dat doet wonderen.
Iedereen zegt altijd dat ik goed op mijn video's en foto's sta en dat komt door dat sterke licht.
Hoe goede selfies maken – poses!
De beste manier om jouw picture perfect poses te vinden, is om te experimenteren.
Je bent toch alleen als je selfies neemt, dus ga gewoon wild met het uitproberen van poses. Maak gewoon 20 – 30 – 100 shots desnoods maar je ontdekt zo wel hoe jij er op je beste uitziet.
Ik vind dit 👇 mooie foto's maar PER FOTO heb ik er zeker wel 30 genomen voor er een goede bij zat.
Hoe goede selfies maken – zelfvertrouwen
Het is belangrijk om zelfvertrouwen uit te stralen. Mr Google vertelde me dat ik mijn ogen lichtjes moest samenknijpen om meer zelfvertrouwen uit te stralen.
Maar dat werkt voor mij niet hoor. Voor mij is lachen DE manier om mijn zelfvertrouwen te tonen.
En denk aan het advies van Tyler Banks met de serie "America's Next Topmodel" : SMIZE
Met andere woorden : smile met je ogen! En niet alleen met je mond.
Haha, je zal mij toch niet zo snel zien SMIZEN à la Tyler Banks hoor. Wat jij? 😁
Hoe goede selfies maken – je nek naar voren
Ik kwam ook dit gekke advies tegen – haha, ik zocht op : hoe een dubbele kin vermijden in foto's.
Rek je nek naar voren en je voorhoofd ietsje naar beneden.
In deze video legt fotograaf Peter Hurley het stap voor stap uit.
Hoe goede selfies maken – beweging
Ik zet de gsm op aftellen en ga dan bewegen. De mooiste shots komen daar uit voort. (haha, en de gekste ook).
Hoe goede selfies maken – in de spiegel
Ik zag vele instagram celebrities dit doen en dacht : give it a try en ik vind het best wel cool. Het is ideaal om je outfit te tonen (yep, pyjama dag) en niet altijd op je gezicht te focussen.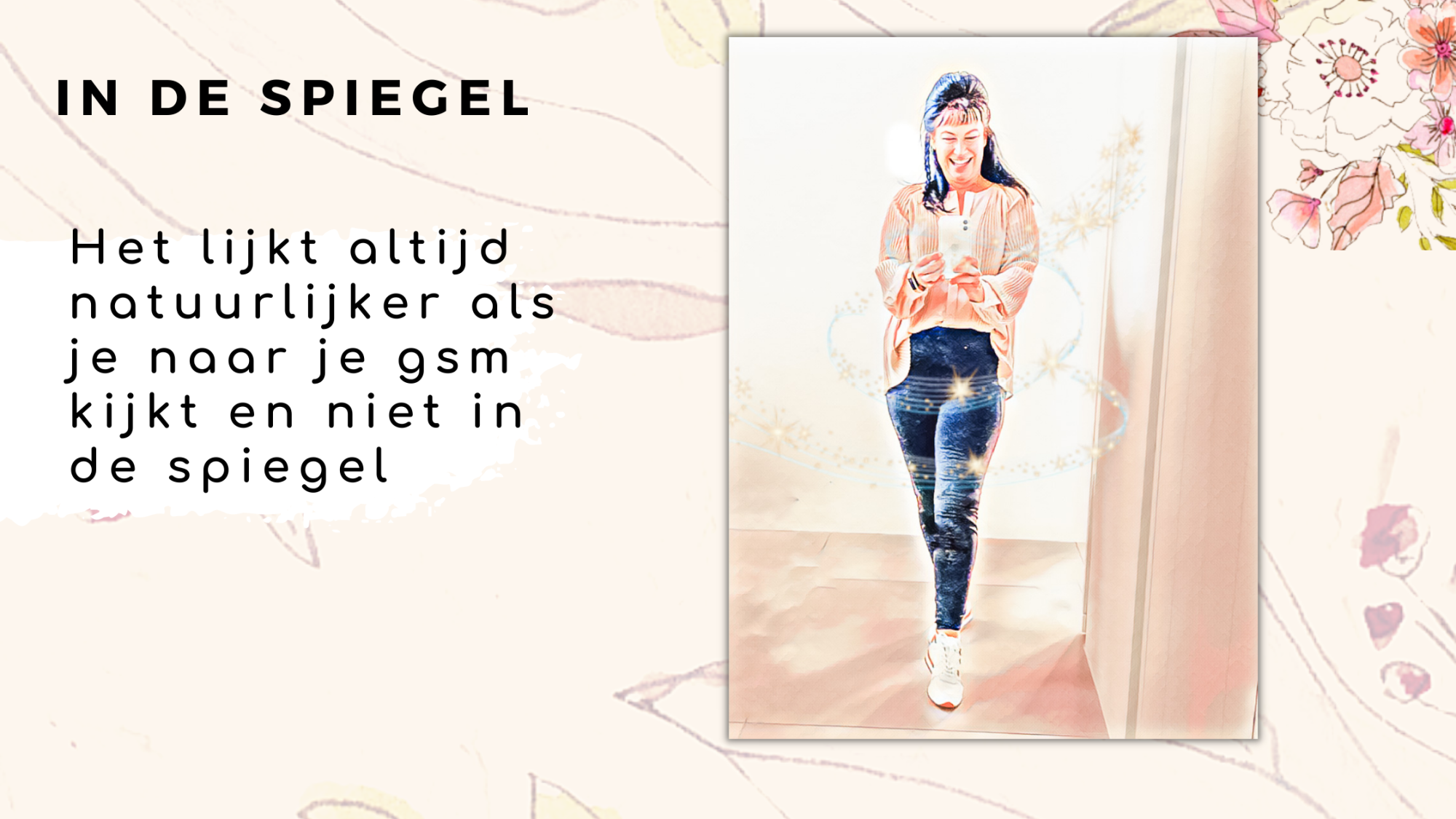 Hoe goede selfies maken – afkijken van de professionals
En natuurlijk wilde ik ook ontdekken hoe je slanker oogt in foto's
Hoe goede selfies maken – makeup
Goh, daar ben ik geen experte in. Gelukkig ken ik Ellen, één van mijn
Blooming Business Babes
. Zij is Oriflame-partner en ze geeft gratis MAKE-UP sessies.
Ze noemt het : FeelGoodFotoShoot, want ze maakt dan meteen een mooie shoot.
Gratis, leuk en mooi. Wat wil je nog meer!
Meld je hier aan : 👇

Hoe goede selfies maken – Wees creatief
Ik ben geen grote fan van allerlei filters, al kan ik me er wel mee amuseren 😊. En soms komt er iets uit dat ik toch wel bij mijn BRAND vind passen.
Dus ja, experimenteer ook maar eens met die Snapchat (en andere) filters!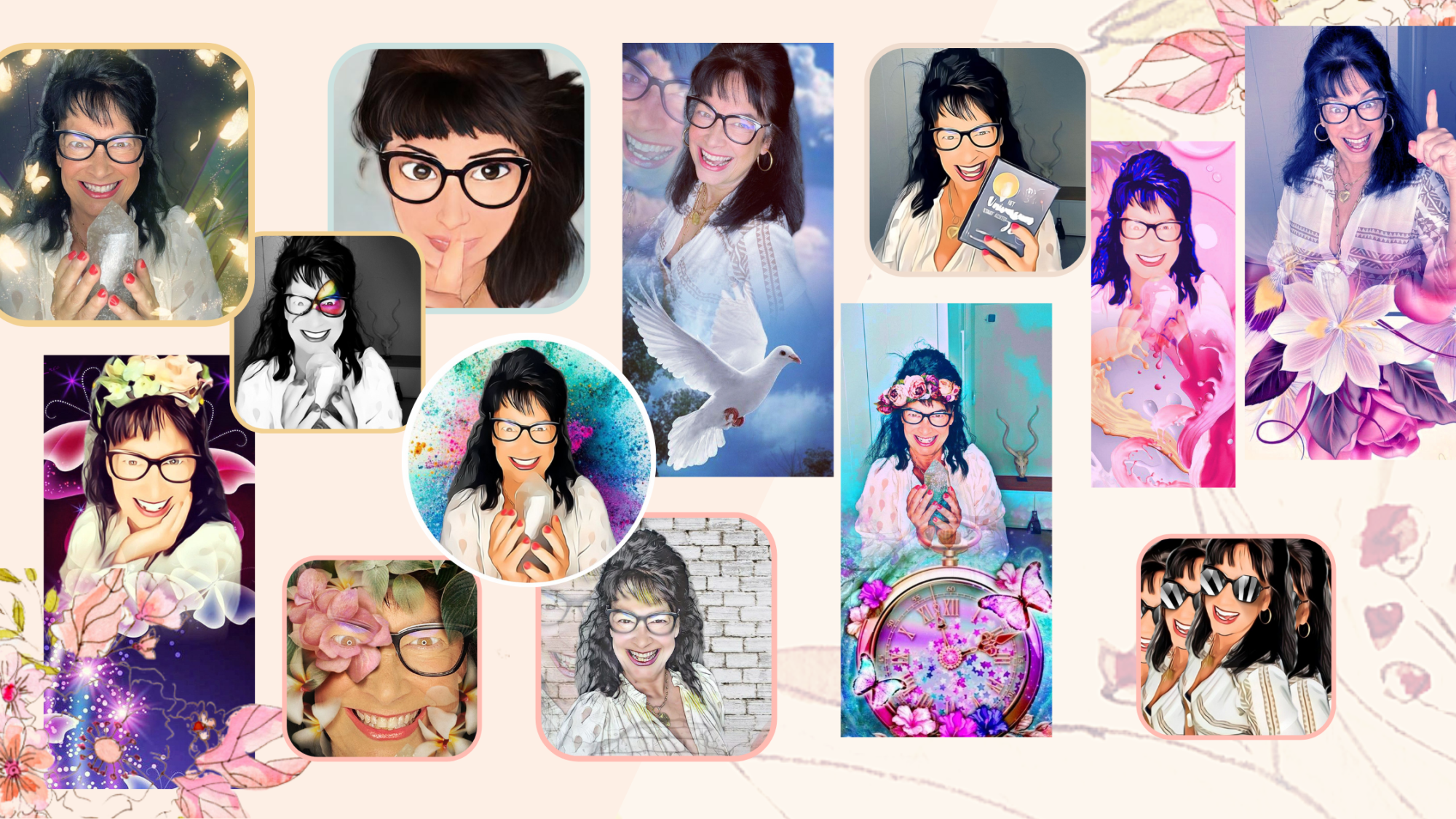 Hoe goede selfies maken – Maak het AF in Canva!
Jouw beurt
Laat me gewoon even weten in de reacties 👇 of jij aan de slag gaat met je eigen foto's.
Kom in de Facebookgroep voor de gratis Canva Training voor Beginners (bij gidsen)
Helpt dit blog jou?
Je helpt mij door een reactie na te laten onder het blog of het gewoon gezellig te delen met andere ondernemers die dit nodig hebben.

Heb jij een vraag?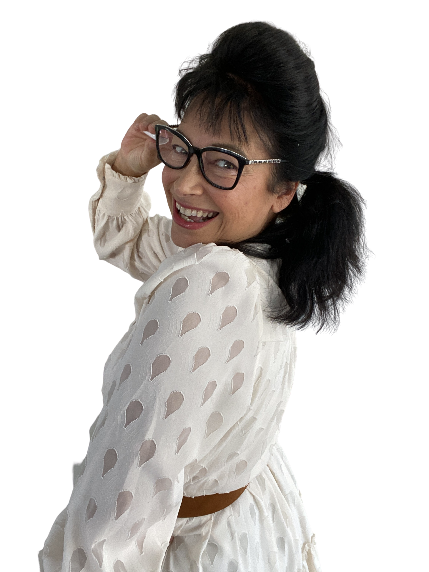 Zal ik je tonen hoe ik nieuwe mensen aantrek?

Dit bracht me mijn ultieme methode, mijn ultieme rust in het hoofd en mijn ultieme succes.